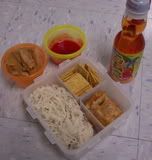 Blagh.  Low quality bento.  At least there's a picture.  Featuring mango flavored Ramune!  Yum yum!
Ingredients:  Noodles, Hot pockets[?], Wheat thins, Peanut butter, Homemade strawberry jam, Ramune
Tips:  Pictures!  I have made way more bentos than I have posted.  I tend to deem some unworthy of pictures, but they all are!  At least for documentation purposes...