Saturday, April 19, 2008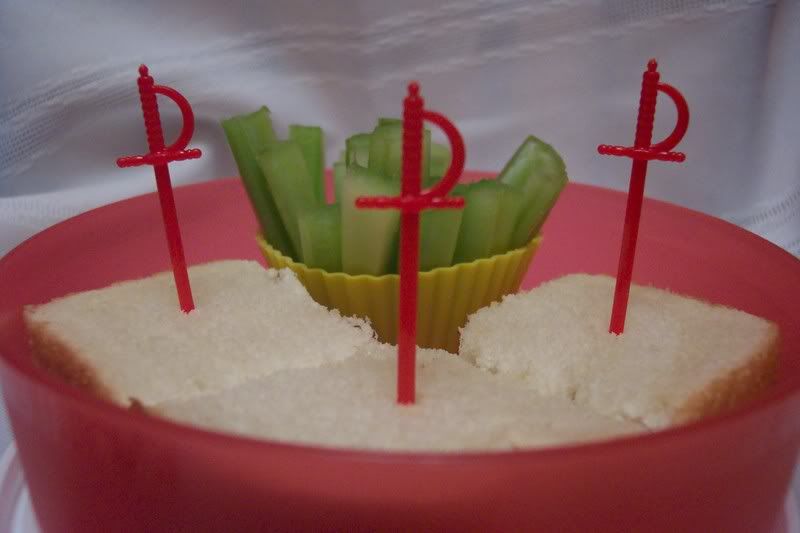 Great success!  I found the camera. Now for the first of a series of updates.  Today's update will explore my lack of camera skills.
Notice the bento in the red cylindrical container. It looks stupid when viewed from above, however artistically I arrange it.  By putting cute little  rapiers in the sandwiches and taking it from a lower angle, I achieve a cooler effect. (I can conceal my lack of creativity in photographing and bento constructing by making two small changes.) I have some more pictures, but I'll save them for another day.
Oh yeah, ingredients: white bread, peanut butter, celery, granola.
Posted by

Carson
at 10:52 AM
2 comments:


Wednesday, April 9, 2008
I've been grounded from the computer for the last couple weeks. This in addition to the extreme amount of time I dedicate to biking when it's warm is the main reason for my lack of updates. I get on occasionally, but usually it's not long enough to upload all my pics from the digital camera and other such obento adventures. (I should have time for that later this evening.) I have considered making them the night before, but I tend to fall asleep early (~7 or 8pm nowadays).


EDIT: Or not, because I managed to lose the digital camera.
Posted by

Carson
at 10:45 AM
No comments: